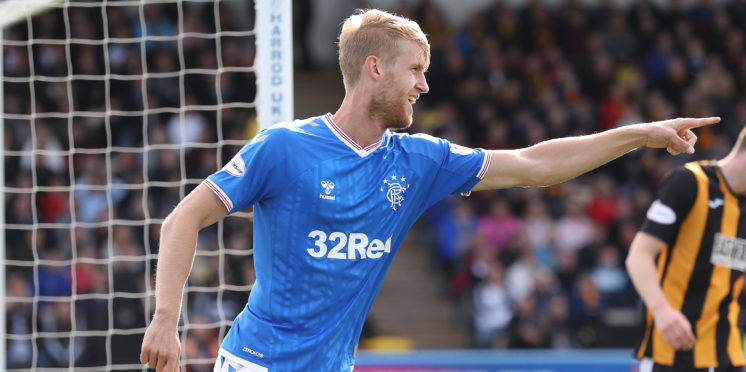 "No idea what you are on about" – These Gers fans are baffled by journalist
"Can't see where you are coming from" – A lot of Gers are baffled by Bill Young's claims on Filip Helander.
Helander was signed from Bologna in the summer for around £3m, but he has only made one appearance due to lack of match fitness – though Steven Gerrard handed him a start in the Betfred Cup win over East Fife.
Young criticised Helander's performance and questioned if he is at the required level to play for Rangers, but the Swedish international did provide an assist for Jermain Defoe and he also popped up with a goal.
The assist for Defoe's goal was particularly impressive as he strode into midfield and fed the ball directly to the 36-year-old – who turned his man advanced into the area and fired a shot into the net.
Certainly, a lot of Rangers fans were impressed by the big Swede and they think Young is talking rubbish.
See the best of the reaction below.
Job done for Rangers in horrible conditions, Defoe does what Defoe does and Aribo absolute standout. Difficult to assess some others because of the type of game but Stewart poor and I have worries about Helander, even at this stage should be able to deal with the players he faced

— Bill Young (@BillRockSport) August 18, 2019
Clean sheet, scored and assisted. Strange post Bill

— Amo De Boer (@Amo0719) August 18, 2019
Helander never put a foot wrong, what are you on about man?

— Tags (@tagsbo) August 18, 2019
Big man strolled it Bill what you talking about ?

— Allan McRitchie (@tichmc9) August 18, 2019
Helander strolled it. No idea what you are on about

— GreggMcKee (@mckegr) August 18, 2019
Many Gers fans are confused by Young's comments – as they believe that Helander had an excellent game.
Worries about Helander? why… He's still weeks behind most of our team. He hasnt put a foot wrong either.

— J1mb0w (@j1mboW) August 18, 2019
No worries over Helander Bill, first game, plastic surface, howling conditions, played well and can't see where your coming from here.

— mp350 (@8MP3) August 18, 2019
Come on it was his 1st game

— the queen's 11 (@Bob32320168) August 18, 2019
Other Rangers fans think that Helander performed well in tricky conditions and they are looking forward to seeing more from him.
---